Tourism
Panama is a country of diversity and contrasts.
Every region has its own specific characteristic in historical, geographical and cultural aspects being in addition a colorful mixture of races and customs.This unique combination of people and original places makes Panama an amazing and fascinating destination.
Where do you want to go?
We invite you to enjoy a great journey by watching the interesting tourist attractions of Panama as shown in the map below.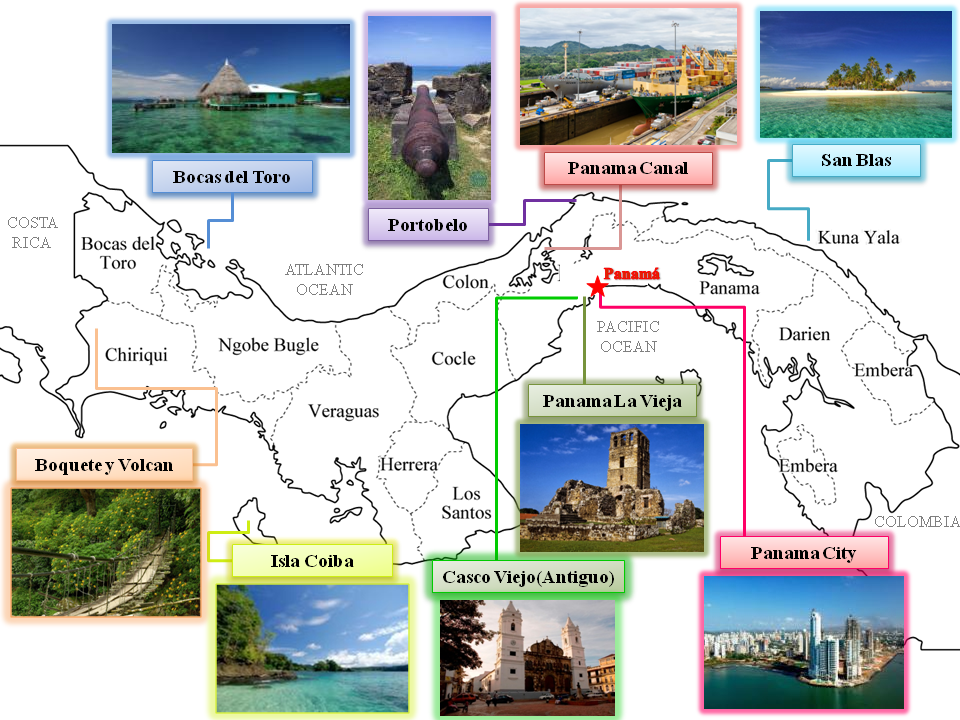 ■PANAMA CANAL
Total extension: Eighty km. The time required to cross the canal including waiting time is twenty four hours.
Panama Canal is one of the most impressive engineering works in the world. The construction was finished in 1914 hence it celebrates its 100th anniversary in August, 2014. It has 3 lakes and 3 sets of locks, which raise and lower vessels up to 25meters in order to transit the Canal. It is currently undergoing through an Expansion Project that will increase its capacity dramatically.
Activities for tourists are available at Miraflores Locks on the Pacific side and at Gatun Locks on Atlantic side. People can learn its history and operations. Also watching a live size Panamax vessel crossing the waterway is possible. Moreover, there is good restaurant with a nice view at the Miraflores Visitor Center.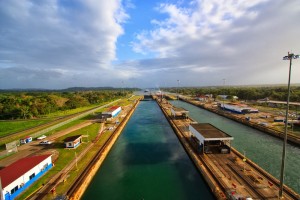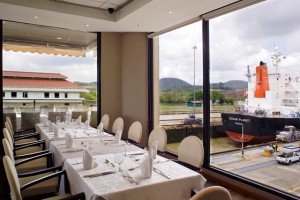 ■PANAMA CITY
The main gateway of Panama is its capital, Panama City. There are a lot of important business opportunities as it is considered an international financial and banking center. Panama has the world's biggest free trade zone in the western hemisphere and an international airport hub that seamlessly connects Latin America and the Caribbean. This urban city offers great leisure time as well. You can enjoy shopping with affordable prices, exciting night time entertainment, bars, restaurants and casinos. Besides, Panama city also offers medical and health services which are well known for their quality.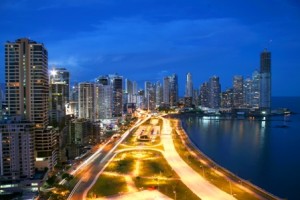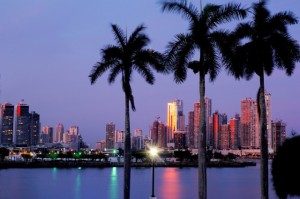 ■PORTOBELO
+World Heritage – UNESCO 1980.
It was founded in March 20th, 1597 (Spanish Colony Period) by Francisco Valverde y Mercado. As a fortress, Portobelo kept and protected all the gold coming from the Spanish colonies in South America. The English pirate Sir Henry Morgan attacked Portobelo in 1668 trying to seize all this gold.
In 1976 the fortifications were enclosed in the newly-formed Portobelo National Park, and in 1980 UNESCO declared it a World Heritage Site.
There are also several excellent snorkeling and scuba diving sites off the coasts of Portobelo.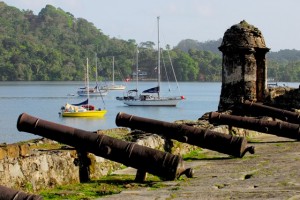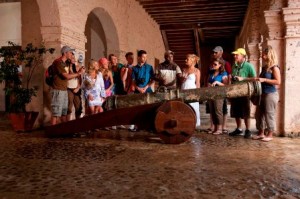 ■PANAMA LA VIEJA
+World Heritage – UNESCO 1997 and extended in 2003.
Panama La Vieja is the architectural remains from the Historic Monumental Complex of the Spanish city in Panama founded by Governor Pedro Arias Davila in 1519. In 1671, the English corsair Sir Henry Morgan plundered and set on fire this city, leaving it in ruins that today are considered today Historic World Heritage. It has extraordinary meaning, not only for Panamanians but for all Central and South America and Caribbean region.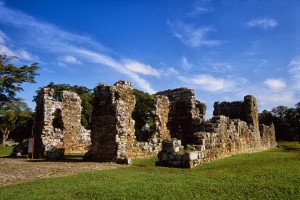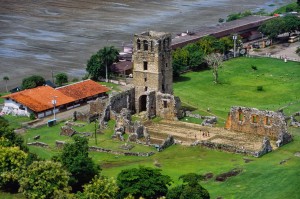 ■CASCO VIEJO (ANTIGUO)
+World Heritage – UNESCO 1997 and extended in 2003.
Casco Viejo is the old town located in San Felipe Neighborhood in Panama City. It was established after a fire destroyed Panama La Vieja. Its streets are narrow and brick-made. The landscape shows the influence of Neoclassical, European and Colonial art. Various charming spots can be visited here: The Metropolitan Cathedral, San Francisco de Asis Church, Presidential Palace, City Hall, National Theatre, Interoceanic Panama Canal Museum, Plaza of France and Casa Gongora.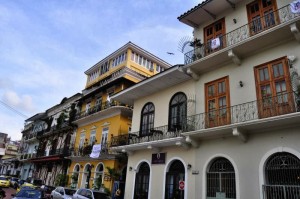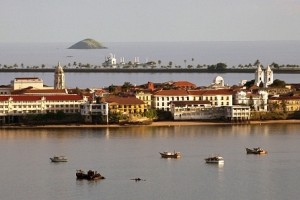 ■BOCAS DEL TORO
Bocas del Toro is located in northwest of Panama and bordering Costa Rica. Colon island is the capital of Bocas del Toro and is considered to be the fourth largest island in the country. It is full of beautiful beaches, where the water is crystal-clear for snorkeling and diving. It also generates some of the best waves for surfing in the country. Besides, the area is also a natural habitat to several kinds of birds, armadillos, sloths, diverse monkey species, and iguanas.
Bocas del Toro allows for a great feeling of the Caribbean.
<Activities> Snorkeling, Surfing, Cycling, Whale watching, Camping, Bird Watching, etc.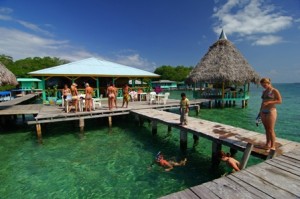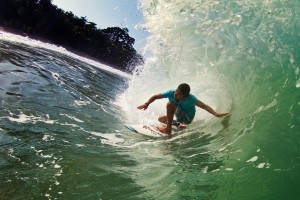 ■SAN BLAS
The San Blas islands are comprised of approximately 365 islands and cays, which are located just off the Caribbean coast of Panama. Guna Indians who are famous for its "Molas", colorful embroidered panels, used by woman in their traditional dress live here. Molas symbolize the identity of the Guna people to outsiders. Their work is characterized by having colorful designs of animals. It takes 20 minutes from Panama City by air or one hour and half by car.
Surely you can experience a traditional Indian culture here.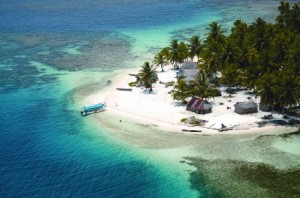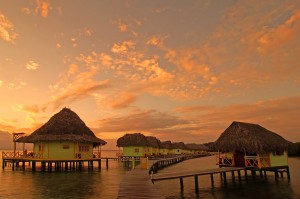 ■BOQUETE and VOLCAN BARU
Boquete is an attractive region located in the highlands of the Chiquiri province. The slopes of the mountains surrounding this beautiful valley are covered with coffee and flower plantations, two of the most important products of the region. The mild climate of this area provides a suitable environment for its growth. The temperature can reach twenty eight degrees during the day, and drop down to fifteen degrees at night.
<Activities > Bird Watching, River rafting, Zip-lining, etc.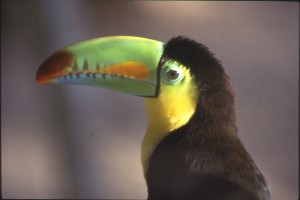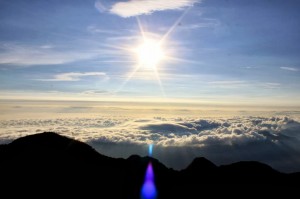 ■ISLA COIBA (COIBA NATIONAL PARK)
+World Heritage – UNESCO 2005.
Coiba is the largest island in Central America. It is located off the Pacific coast of the province of Veraguas. It became a National Park in 1992. Coiba National Park is one of the greatest marine surface protected parks in the world. It is very famous for its extensive coral reef and a broad variety of whales that can be usually seen in the area.
<Activities>Whale Watching, Snorkeling, Fishing, etc.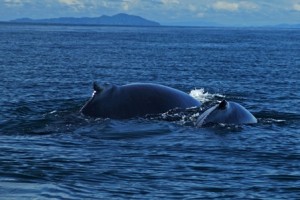 WHY PANAMA?
It is considered a safe place for tourists.
Tocumen Airport, Panama City's International airport, serves as a hub for many airlines, therefore offering convenient air travel connections with many cities in the USA and Latin America.
Modern infrastructure, including top-class hotels, restaurants, shopping malls, casinos, bars, and so forth. Also, banking services, roads, telecommunication systems allow Panama to be quite competitive in business.
Short distance between tourism spots, since Panama is a relatively small country.
US dollar widely used everywhere.
A huge variety of exotic beaches and islands on the two coasts – Pacific and Atlantic Ocean (Caribbean Sea) sides – where marine sports such as fishing, surfing, scuba diving and sailing can be enjoyed.
A splendid destination for Ecotourism. Because of its pristine and bio-diverse rainforests, Panama has a marvelous variety of fauna and flora, boasting one of the largest varieties of specimens in the world, where many species are endemic. Panama is especially famous for orchids, birds and butterflies.
For Agrotourism lovers, Panama is also a fascinating place to enjoy the taste of the great Geisha coffee as well as the beautiful landscape of coffee farms located in Boquete, in the highlands of Chiriqui Province, near the border with Costa Rica.
It is a world-class adventure tourism spot. Kayaking, snorkeling, rafting and other activities could be practiced.
Encounter of cultures, where you have the opportunity to see Indians tribes, as well as people of other races, mixed throughout the different historical periods of Panama.
Panama is proud to have many natural and historical World Heritage sites, recognized by UNESCO.
Panama enjoys an excellent Caribbean cuisine with a variety of dishes composed of beans, meat, soups, vegetables, seafood and rice (like Japan), as well as first-class restaurants for the great taste of tourists.
And obviously, the great engineering wonder: the Panama Canal.
DOWNLOAD brochures by topic!
Please select the information you want to see.
FLIGHTS FROM TOKYO TO PANAMA CITY (TOCUMEN)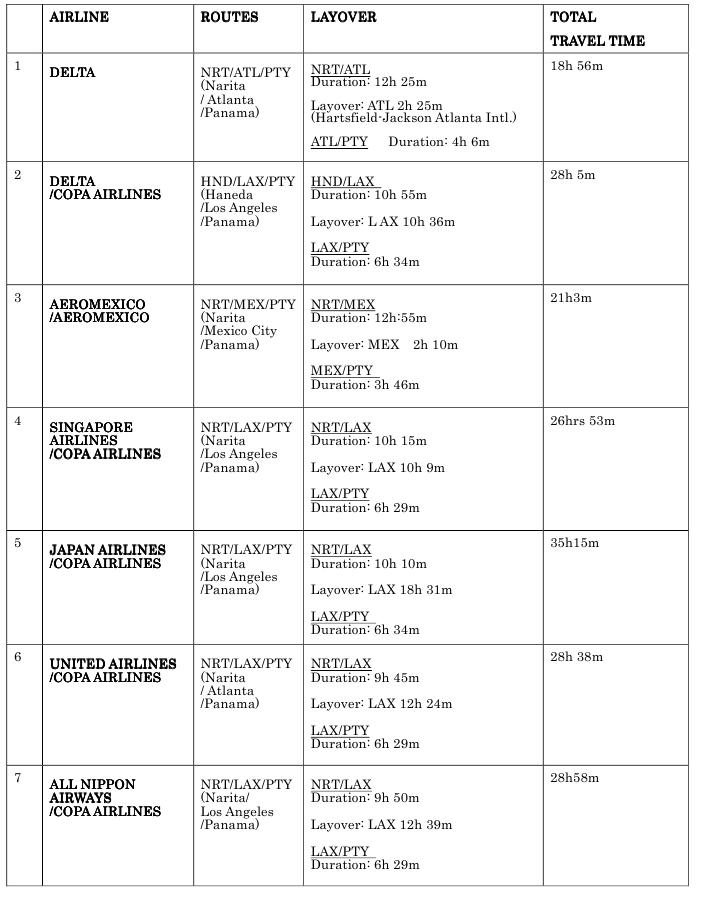 1.Information regarding time schedule is based on information as for August 2013, and it is only for reference purposes.
2.Time and routes are subjected to changes. For further information, please contact airlines or travel agencies.