Consulate
VISA INFORMATION
Visa Waiver
"Based on Executive Decree #114 dated April 4, 2018, those who hold a passport with more than 3 month validity left and a valid multiple visa from one of the following countries: the United States of America, Canada, Australia, the United Kingdom, or Schengen treaty, or a resident permission issued by those mentioned countries or EU, are able to enter the territory of the Republic of Panama regardless of their nationality. The visa should have been used at least once to enter those mentioned countries and should have more than 1 year validity left when entering Panama. Upon presentation of the resident permission or the visa issued from the above mentioned countries, the carrier or immigration office will deliver a Tourism Card, based on Article 9 of Executive Decree No. 320 dated August 8, 2008. The issuance of Tourism Card will cost US$30.00″.
Japanese Passport Holders
Japanese passport holders, including Diplomatic and Official passport, DO NOT require visa to enter Panama as tourist, and are able to remain in Panama for a maximum of 180 days.
Please make sure that you have the following requirements:
At least 6 months of validity left on your passport.
A return/onward ticket.
Sufficient funds at least US$500.00.
If you want to stay longer than 180 days, you may extend your stay in the Immigration Offices in Panama. Please be informed that the Consulates are not authorized to issue any other visa than tourist visa.
Please refer to the following web page of the Immigration Offices in Panama:
http://www.migracion.gob.pa/
Tourist Visa Application
*Only for foreign citizens, who currently reside in Japan.
If you do not qualify for the visa waiver mentioned above, you may need a stamped visa or an authorized visa, depending on your nationality. Please contact the Panama Consulates in Japan (Tokyo/Kobe) for more information.
For authorized visa, the approval process may take up to 60 business days, depending on the verification and completion of your documents.
APPLICATION TIME
Monday to Friday, 9:45 – 11:45 AM
CONTACT INFORMATION
CONSULATE-GENERAL OF PANAMA IN TOKYO
Consul General of Panama in Tokyo
Mr. Raul Rodriguez Florez
Business Hours: AM 9:45 – 11:45, PM 1:00 – 3:30
Since October 10, 2016, The Consulate General of Panama in Tokyo has been relocated to following address.
1F, Samon Building, 2-21-7,  Higashi Azabu, Minato-ku, Tokyo 106-0044
Tel: 03-3585-3661
Fax: 03-3585-3662
E-mails:
Ship Registration: ship-registration@panaconsul-tokyo.com
Crew Licenses: crew-license@panaconsul-tokyo.com
Visa/Legalization: visa@panaconsul-tokyo.com
Passport: passport@panaconsul-tokyo.co
Segumar Section: segumar@panaconsul-tokyo.com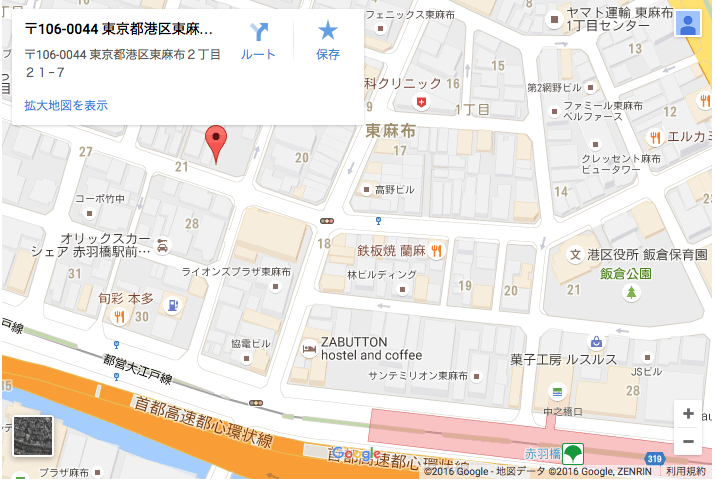 Access

* 4min walk from Akabanebashi station (Oedo Line) Nakanobashi Exit
For those seeking information in North America, please contact below. Embassy of Panama in the U.S. and Canada.
U.S.A. (Washington D.C.)
ADD: 2862 MC. GILL TERRACE, NW, WASHINGTON D.C. 20008
TEL: 202-483-1407
FAX: 202-483-8413 / 8416
E-MAIL: panaemba@erols.com Canada
130 Albert St. Suite No.300 Ottawa, On. KIP 5G4, Canada
TEL: 236-7177
FAX: 236-5775
E-mail: pancaem@travel-net.com